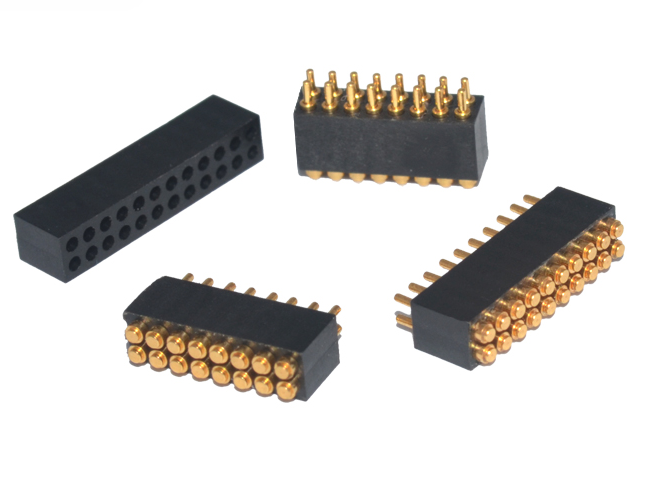 CFE 1.27mm pitch through-hole pogo pin connector
CFE Top Strength
1)Over 12 years' experience in manufacturing pogo pin connector,and we own 12 items national patent of 
 spring contacts .The highest life test has up to1000,000 cycles, can custom various shapes,small structure 
 and high current (2-20A).
2)Our factory has been accredited the ISO9001:2008,ISO14000 certificate,spring loaded connector accord with HF,
RoHS,Reach standard.  
3)100% electrical test provided on function before delivery. 
4)We believe that: "Quality to win markets, improvement to win progress". Welcome customers all over the 
world come to our factory to give guidance for development !
Pogo Pin Connector Strong Point:
1.Customize high current charger pogo pin more 1600 items(2A-20A)
2.Customize Pogo pin connector more 300 items(2pin-60pin)
3.Development 1.27Pitch 2-40pin standard products(6mm-15mm pin's length)
4.2.54mm pitch, 2-40pin standard products,housing height 1.27mm
5.Development 2.54pitch 2-128pin male & female pogo pin connector(4.5mm-15mm height)SMT/DIP
(Through-hole)/Right Angle/Solder Cup Type.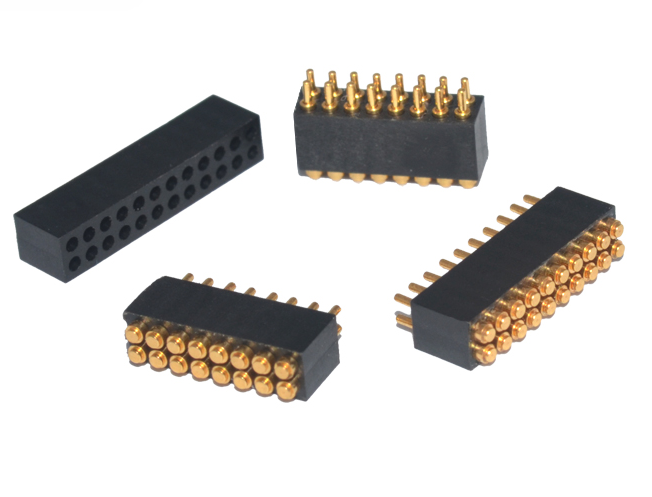 Right angle pogo pin connector

Data

Materials & Plating

Barrel:Brass,Beryllium copper,Phosphor Bronze
Plunger:Brass,Beryllium copper,Phosphor Bronze
Spring:Stainless steel,Music wire
Plating:Gold,Silver,Palladium-Nickel
Flammability:UL94 V-0 
Insulator:HTN,LCP,PBT
 
 

Technical Specification

Rated Current:1A-20A(different structures) 
Rated Voltage:AC/DC 12V
Contact Resistance:50mΩ Max. (stillness, Working stroke)
Operating Temp.-40°-+85°
Life test:100,000 ~1,000,000 cycles
Reflow Temp.265°, 4~5sec
 
 

Environmental 

Test Standards

Salt spray test EIA-364-26 method B.Ka:48h
Humidity test EIA-364-31B method Ⅱ condition A, 96h
Temperature cycling or thermal shock test EIA-364-32D method A condition 8:-40°-105,Five cycle
Temperature life test EIA-364-17B method-A condition-3 condition-A: 85°,96h
Vibration test EIA-364-28E condition-Ⅱ,10~500Hz,10g acceleration
shock time:15 minites
Mechanical shock test EIA-364-27B condition-A: 50g acceleration, triaxial six sides, each axis three times
Resistance to solder test EIA-364-56C condition-D level 2:260°   20s 
Solderability test EIA-364-52: 245°,  5s
 
 

Certifications

ISO9001:2008,ISO14000
ROHS,Reach,HF standards 
Pogo Pin Connector Application:
Pogo pin Connectors developed & produced by CFE, can be applied to unlimited applications. 
Below are just some of the examples of how the products can be used Please feel free to 
contact CFE for more details
1)Consumer electronics products,PCB board
2)Digital camera/Medical products/ Printer cartridges
3)Golf handle/ Electric vehicles/ Telephony applications
4)Cardiac defibrillator/Car charging /Air purifier
5)LED flat luminaries/LED flash light/Tablet/Laptop/PC
6)Power bank/ Digital product/ Small household electrical application;
7)Charging products/Signal transmission products etc
The Best Service Comes From:
● Quality and Performance
● Reliability and Durability
● Competitive Price
● Rapid Design and Delivery
● Reliable and Honest Partnership

Tel::

+86(769) 81668560-866

Mob::

+(86)13798762170

Fax::

+ (86) 769-8288-2401

Email::

cfe.ca@cfeconn.com

Factory::

NO.5 East Street,Zhen Yuan Road.Wusha.Changan, DongGuan CityGuangdong Province, China